Upcoming Events
Campaign Against Sanctions

* Join us on our campaign against sanctions. Sanctions hurt civilians, deprive them of much needed medical supplies and medicines, and deny the State of spare parts and material essential for machinery and infrastructure.
Over 500,000 children died as a result of 10 years of sactions imposed on Iraq.
The US administration arbitrarily and unilaterally imposes sanctions.
Sanctions are a war crime. Stop the sanctions on Syria.
Past Events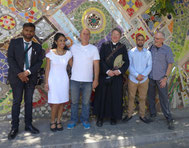 Hands Off Syria joins Australian Delegation to Syria in July 2015. Here we are with Moaffak Makhoul, artist and creator of the world's largest mosaic with recycled material. Damascus, Syria.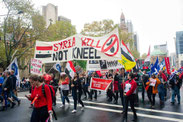 Hands Off Syria Team and friends participated in the 2015 Sydney May Day Rally (Sunday 3 May 2015).
Congratulations to the May Day Committee on another successful and wonderful day, in spite the rain.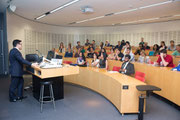 HOS attended and participated in a Sydney University public Seminar on 17 March 2015.

To listen to the talks, please access HOS youtube.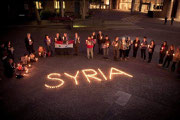 A Candlelight Vigil in Memory of Syrian Martyrs 16 Oct 2014 • For an end to foreign interference and for self-determination in Syria
• For dialogue with the Syrian State and a prompt diplomatic solution
Hands Off Syria participated in the International May Day rally held on Sunday 4 May 2014. Our theme is the anti-sanctions campaign: "Sanctions hurt workers" "Sanctions starve children"...

Syrian Women Voices on the War on Syria. On Monday 17 March 2014 at Sydney University 100 people turned up to a Forum with Reme Sakr, Elle Mohamad, Mimi al-Laham and Jasmine. An informative session, with vignettes from these three Syrian women on their lives in Syria.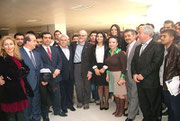 Why I went to Syria. On Thursday 6 March 2014 at Sydney University Sydney University Academic Dr Tim Anderson spoke about his recent visit to Syria. Post-graduate researcher Jay Tharappel provided the introduction and MCing for the evening.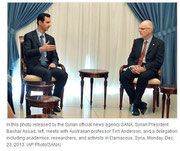 In December 2013, Hands Off Syria joined the Australian Delegation to Syria. The Delegation headed by Dr. Tim Anderson met with Syrian President, Dr. Bashar al-Assad, visited hospitals and universities, and met with academics.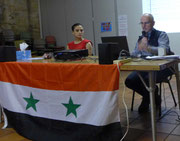 Reme and Tim, Hands Off Syria members, speaking at a Forum on Political Islam at Newtown, Sydney. 15 September 2013.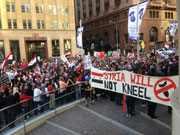 Hands Off Syria at a global weekend of actions against direct Imperial aggression on Syria. Last minute organised mass rallies were held around the world. Over 1500 people attended the Sydney rally on 31 August 2013.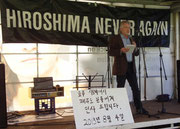 Hands Off Syria member, Wayne Sonter, speaks at the Hiroshima Commemoration Day at Sydney Hyde Park - August 2013.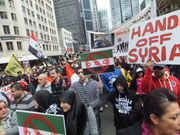 Hands Off Syria, Sydney, rally - June 2013.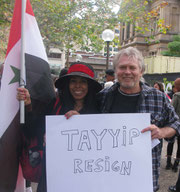 Hands Off Syria, Sydney, members participating at a rally against the Turkish regime of Erdogan Tayyip. Hands Off Syria supports the demonstrations in Turkey against Turkish Prime Minister Tayyip who has been providing direct material and intelligence support to anti-Syria terrorists.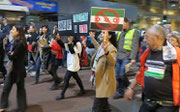 Rally for Gaza - Nov. 2012. Hands Off Syria condemns the occupation of Palestine, and supports the rights of the Palestinian people to return to their homeland, to live in peace, free from harrassment and oppression.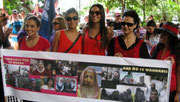 Hands Off Syria, Sydney, was present at the Sydney International Women's Day event in May 2013. Women in Syria are bearing the brunt in the Syrian conflict - torture and rape being carried out by Wahhabi terrorists who want to impose a Caliphate in Syria.